@David made an A-W-E-S-O-M-E-ly cool skeleton clock that he previously posted about which I'm honored to be the new owner of… not just because of how amazing it is, but also because of how proud I am of its maker!
We've put it on temporary display in the Welcome Center display case in hopes of it inspiring another maker to build some cross-area creations. This clock was made with metal, wood, 3d printed parts and electronics.
Come check it out!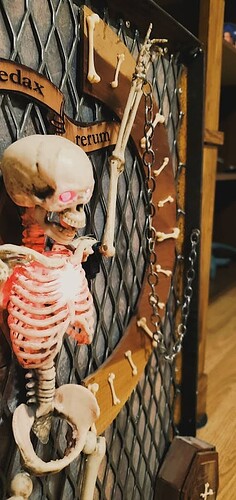 That being said, I want to just give a reminder that when mistakes or accidents happen, don't be shy about posting a quick message on the forum! I think someone with good intentions attemped to manually adjust the time for Daylight Savings Time today and tore his arm right out of the socket. It's repairable, we are a makerspace after all, but unless we're aware something happend, we don't know it needs fixing!
No skeleton left behind!