Join the classroom committee on October 29th for a Halloween party!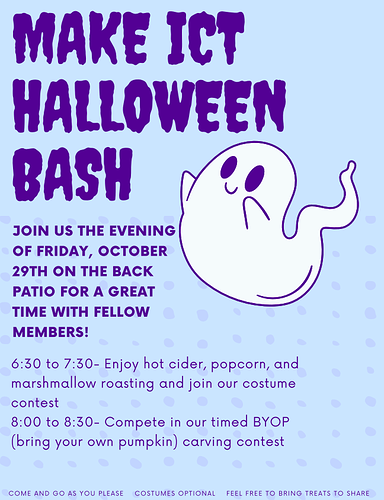 Summary

This text will be hidden
Great Idea!! super stoked for this chill hang ! cant wait to show everyone @Ethan.Doak and my costumes!!!




Looks fun, might have to re-schedule my 3D printing class so I can join.
Sounds like a good time, got to come up with a costume!
This looks so fun! Still trying to figure out how to register…
I think that link is more for people who want a calendar reminder than anything. No actual registration needed.
Ah ok. Will the pumpkin carving be happening at the party, or bring your pumpkin already carved and decorated?
Pumpkin carving at the event! If you have tools please bring them (along with any extras)! Though we'll have some for you to use if you don't.
And yep, Paul is right on. No registration required.
Are there rules for what materials are allowed to use on your pumpkin, and if any prior prep work is allowed? I see that it's a timed contest.
Good question! Knock yourself out with as many materials as you want, but we ask you to keep prep minimal and stick to using the time allotted at the party!
Next year we need to add a category for painted pumpkins. My niece would totally do that, but balked at pumpkin carving.
If a fire pit is needed, I volunteer mine! I'll need a bit of help loading/unloading it into my SUV tho.
I was told by the board that we can't have a fire pit

but also that if I found an explicitly legal path for the "commercial operation of a fire pit within city limits" that we would reconsider allowing one. It appears that the City of Wichita does not condone firepits, but has an unofficial pollicy of looking the other way and the Board is not willing to rely on looking the other way as grounds to approve the use of a fire pit. Unfortunately I've been way too busy to make those inquiries as of yet. I would love it if someone else could but hold no expectation in that regard.
Also, said business will keep me from this party, have a great time though!
Not even one of those sits-on-the-back-patio self-contained metal fire pits? If it's good enough for every house in the city, it should be okay for MakeICT, right?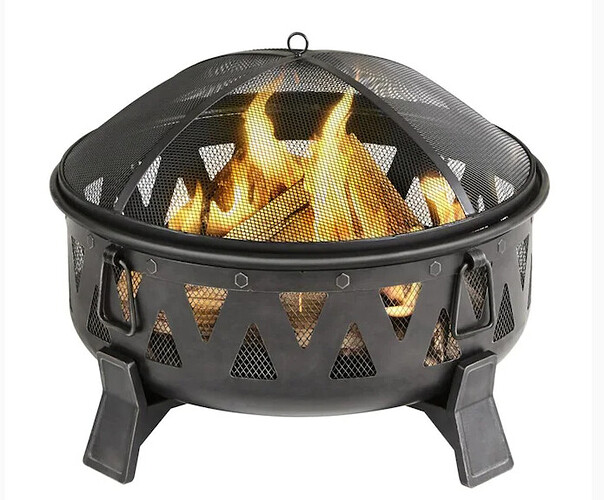 I'm thinking that looks perfectly fine to use? I don't want to step on anyone's toes but I don't see a reason why we couldn't, unless the board meant ones like this.
My ex-father in law was a fire captain. He still adores me. Imma ask him.
I'm sorry. I've been a firebug since I was kicked outta the girl scouts. I've never gotten in trouble before and I'm black so…I'm sure it's fine.
I addressed the board at the last meetings to request a firepit. They denied me permission to operate firepits of exactly that kind as well as in the ground. Seriously been pining after one… based on what they asked me to get I think they'll want city ordinances, not assurances from individuals no matter how high up. @jpalschauhan ?
Yeah that's fair. Fire pits are apparently a grey area. We could have one technically but it is up to the board at the end of the day. If something goes wrong they are liable.
I'm going to go pout about this.
Also, figure how we can have one eventually.