Hey Makers - we are having a second saturday event this month celebrating women makers! It will be next Saturday April 14th from 12-4pm. We'll have a presentation from society of women engineers, laser cutter ornaments, fundraising for Wichita Area Sexual Assault Center (WASAC), tours and general open-ness.
We need your help with tours and check-ins - to volunteer sign up at the same place as always: http://makeict.org/volunteer/
If you're on facebook please invite your friends to this event!
https://www.facebook.com/events/185743675560658/
If you want to get a shirt printed, I'm taking votes for your favorite designs so we know how many screens to make up

Thank you Dominic for these awesome designs!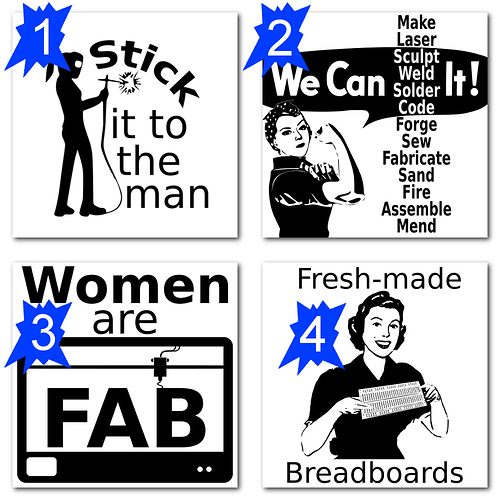 And finally we'd like to do MORE second saturday free open house type events so I'm open to local non-profits who we could partner with on future dates, suggest away!