Doing some late spring cleaning in preparation for a move and have a handful of things to get rid of.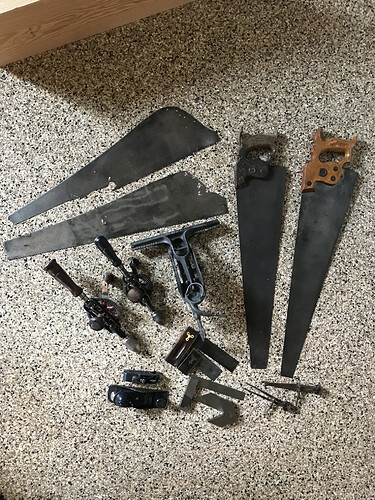 Starting at the top left there are 2 old Disston saw plates that didn't have handles or were otherwise beyond restoring. The steel is very good for making custom-shaped scrapers. I already cut up the one at the top for this. I'd be happy to give these to whoever wants them free of charge. Just hate to throw out something that could be useful.
Below that are the two hand drills. A Millers Falls No. 5 and a Millers Falls No. 2A. They both have all the operating parts including the side handles which can be hard to find. The 2A has some cracks in the main casting but it still feels solid and doesn't flex or anything. The No. 5 has a chip in the rim of the wheel but this doesn't affect its use. I've used both of them and they both function well. $25 for the No. 5 and $15 for the No. 2A.
To the right of the drills I have a pretty nice Wentworth saw vise. I painted it flat black. The jaws are straight and line up pretty well–not perfect but good enough. I filed a handful of saws with this vise and it is the best-functioning antique saw vise I have come across thus far. Asking $25.
Next up are the 2 saws–both old Disstons. The one on the left I think is a No. 12 but I am not sure. The plate has a significant bow in it that will need to be straightened if you intend to use the saw. The top horn on the handle broke off and a previous owner just screwed it back on. This saw would make a fine user but it will require some work. Note that the plate has the little nib on the back which was only found in older Disston saws–I've actually never seen a saw with the nib around this part of the country. Plate is 24", 9 TPI filed crosscut. The next saw I believe is a No. 7. It is in very good shape for a vintage saw and will make an excellent user with a little bit of work. Plate has a slight bow but it may not even be enough to require any fixing. The handle's finish is flaking off but the handle is otherwise in great shape with no chips, cracks, or anything else. 26" filed 5-1/2 TPI rip. The No. 12 I'm asking $15 for–it is a rare model but is not in great shape. The No. 7 I'd like to get $40 for–it is a nice saw and you will be hard pressed to find anything in as good a shape around here.
Bottom left are a couple Stanley planes. The block plane is a No. 220. Blue japanning. It is in good shape and really doesn't look like its been used much. The bullnose plane is a No. 75 I think. Blue japanning. It is also in very good shape. $20 for each.
Next to that are a couple old Stanley try squares. Both with rosewood handles. These are free to anyone who wants them. I can't attest to their accuracy. Below that I have an unbranded engineers square which I'm also happy to give away for free if someone wants it. Below that is a center-finder that looks brand new. $10 for this.
Last a couple pairs of calipers. The inside calipers are Goodell-Pratt and are in decent shape. The other ones are unbranded and a little beat up. These are both free to anyone who would like them.
If you have any questions or would like to see a better picture of anything either post here or send me a message.
Thanks for looking!