Hello Electronic-y Peeps,
To quote our fearless leader, "broken printers are bad news. Pitch them. Laser, dot matrix doesn't matter, get rid of it. They breed like tribbles…" ~ How to lead the ERP lab - MakeICT Wiki.
In that line of thought, and because the last thing this lab needs is a tribble problem, if this printer has not been claimed by 7/8/2023, the tribble hating softball fairy will poof show up and pitch the printer into the unknown. So far, I have kept the Q Continuum far away from this lab, but there's only so much little ol' me can do.
Other details to consider: this printer has been on the work tables for 3 weeks. It has now been moved to the personal project shelves dated today (6/24/2023). Per the personal project shelves guidelines, it may only stay there for 2 weeks without prior authorization from an Area Lead/Assistant Area Lead.
Please, for the love of all that is nerdy, please take care of your printer before it starts replicating.
Signed,
Your Frazzled Organization Captain-In-Training,
Kez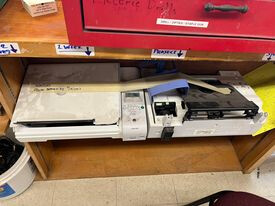 @james.a.seymour for awareness