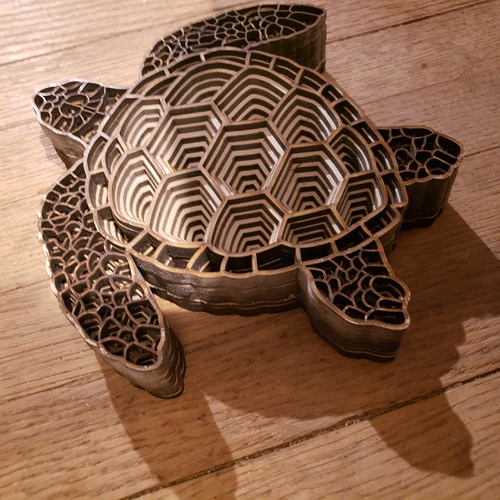 Any ideas what kind of program I would use to make geometric layered designs from scratch like this?
Maybe Inkscape using dynamic offsets… but then again, Inkscape is my hammer (hi, Christian!)
Someone does this here at MakeICT I just can't remember who.
Switched this topic to FABLAB lasercutter. Hopefully whoever that is chimes in, it would make a great class
Two or Three ways I would think to do this:
Inkscape, and do it by hand. Each layer could be a layer in inkscape, lined up, then arrange for export to laser.

3D model it, then use a slicer to export to SVG: https://manual.slic3r.org/advanced/svg-output Which is usually used for DLP/LCD resin printers.

3D model it, then use OpenSCAD to take slices at various heights via projection/slicing https://en.wikibooks.org/wiki/OpenSCAD_User_Manual/3D_to_2D_Projection (Basically the same idea as #2, but another method. That can be modeled in OpenSCAD or another program and OpenSCAD used to cut it.)
If there's a way, and you care about alignment, you might leave either something where you can put indexing pins, or parallel flat surfaces to clamp to. (I note that the alignment seems a bit off in the picture, which bugs me.)
Ya know … if you modeled the shape in 3d then you could use a slicer and set the thickness to the thickness of the wood. Then convert it to the lasercutter.
WSU students were doing something Similar with construction foam. They would 3d scan themselves, use the slicer set at the foams thickness. Then cut the layers in the foam cutter.
Is it possible to import a 2d image svg into a program like on shape then extend it
look in the programs for something named offset… at least most cad programs I have used call it that. What that does is take a 2D shape and add a specific number of inches to it to make it bigger ( or remove them to make it smaller )
You could do it as 2D in a CAD program like Fusion 360 or an Arty program like Inkscape.
Zaq, no longer around MakeICT did a number of similar items on the laser cutter.
Talked to a gentleman on etsy he said kinna the same thing "Hi Frank,
I mostly use Autodesk Fusion 360 (free for hobbyists and small businesses) and Inkscape (free and open source) for my designs. For most of my layered work, I make extensive use of the offset function within Fusion to offset sketch lines between layers. Let me know if you would like any more detail or have additional questions. Best of luck!
Alec"
I need to learn fusion 360 lol
Zack is actually still a member he just seems to come to the space now at times when there are less people around .
If you catch me around the space, I can give you some pointers on Fusion 360. One of the guys teaches a class in it that should be useful as well… but I could help you get started.
If can draw the top and bottom layers you can use the loft to create a continuous body.
Subtract the tapered bodies from the outer shape you want.
Create stacked layers equal to the material you want to cut.
Then intersect each layer to main body.
This will give you each layer. Then create a sketch from the top surface of each layer. Then export the sketch to a dxf.
It is a manual process that would work correctly if you can create the top and bottom image.
If I were making tons of them I would explore custom plugin option in fusion or OpenSCAD to automate the slicing.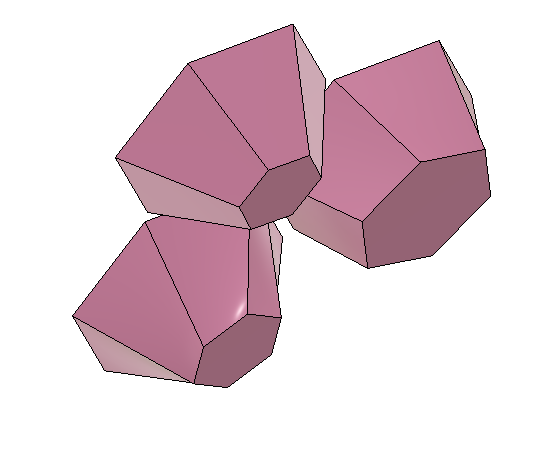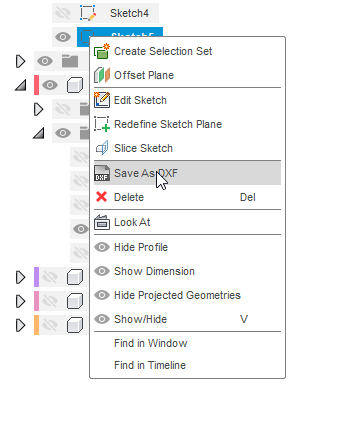 Thankyou for this I will definitely give it a shot!