Signing Time Series One (1-13) and Signing Time Songs (4 discs, 1-12). Most unused, some lightly used. $25.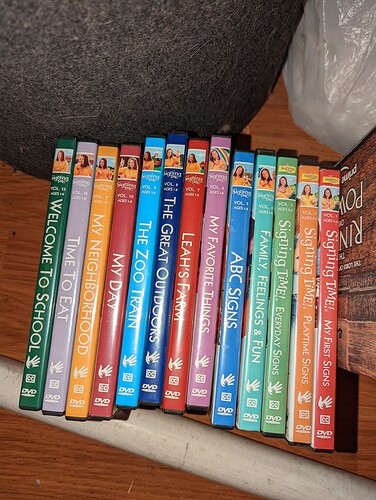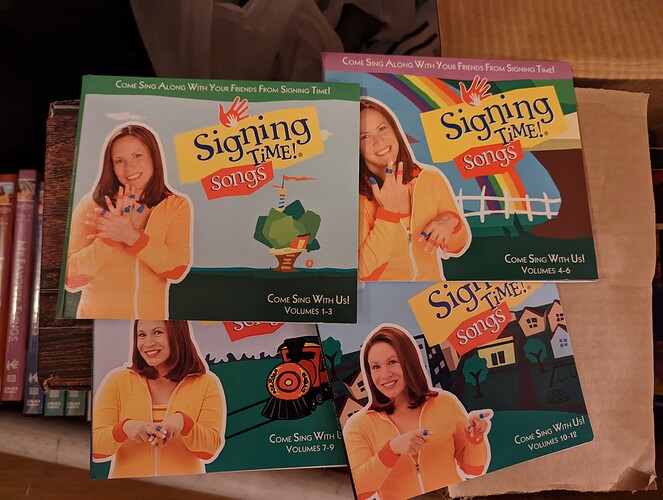 That looks like a future MakeICT class, actually! I'd take it.
I would definitely join an ASL class! Very cool
More than that, you would have a small community of asl speakers that you could chat with. So you would get conversation in asl.
···

On Tue, Sep 20, 2022, 09:58 Kyra Rubinstein via MakeICT Forum <noreply@talk.makeict.org> wrote:

| KRABBIT MakeICT Member
September 20 |

I would definitely join an ASL class! Very cool

---

Visit Topic or reply to this email to respond.

To unsubscribe from these emails, click here.
I've been wanting to learn a little beyond my swear words. ASL class or just a group learning situation would be cool.
okay, I'm impressed after watching an episode…
I wasn't sure what to expect on pace, but she definitely packs in quiet a bit in a 9 minute episode.
Ooh…Michael will teach the "special" ASL session.

These are geared toward children but are very well produced. My kids learned a lot from them. Reason we didn't do through them all was that my children quickly moved on to taking lessons with me.
If some of you want to get together sometime, I can help teach and practice some basics, finger spelling, and grammar. I also have resource books for vocab, although there are great online resources such as Lifeprint and Signing Savvy. I myself wouldn't offer to "teach a class," because I'm not qualified and am careful about injustice and access issues towards Deaf culture/community.
I'd assist. I bet I know some more current ones he doesn't.

I taught transit dispatchers at least one they constantly use…