I built this a few months ago. It's the next phase in training myself to never be able to type on anything resembling a normal keyboard.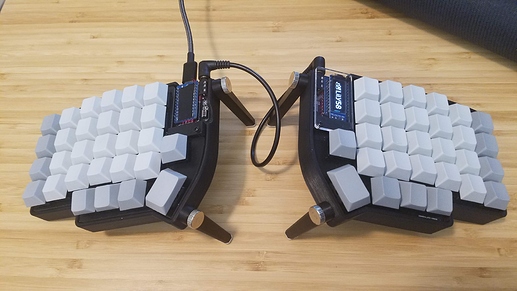 Some basic info:
People usually ask WHY I would use such a monstrosity, so here are a few of the reasons:
It's very comfortable to use for extended periods due to the more natural key layout and the ability to angle and position each half in a way that keeps the arms in a more comfortable position.
All keys are easily accessible and require very little hand/arm movement. For example, I use the arrow keys a lot, so they are set up to be accessible under the home row on the right-hand side while I'm holding the right-hand layer shift key. Much easier than moving my whole hand to a completely different section of the keyboard all the time.
Super configurable. (goodbye stupid pointless caps lock key)
Since the keycodes are handled in firmware on the keyboard I can plug it into any computer and it will work exactly the same.
It is not an attempt to type more quickly. After getting accustomed to the very different layout my typing speed is pretty much the same as before.
The thumbs get to do a lot more than just working together to hit one huge button. Standard spacebars are giant and dumb.
If I'm doing something that needs a lot of mousing and not a lot of the right half of the keyboard, I can move it out of the way to give myself more mouse space.
It also fits in my pockets, so I can easily take it with me and avoid fumbling around on standard keyboards.
I'm considering adding a thumb-operated trackball to make it even more ridiculous. Feel free to point and laugh and question my life choices.