This thread is for quick updates on the latest work or updates on communal gardening. Happy growing!
I planted a row of sugar snap peas on either side of these two sections of the vining tunnel, and pansies in the mosaic garden and by the main entrance. Those spots have all been watered.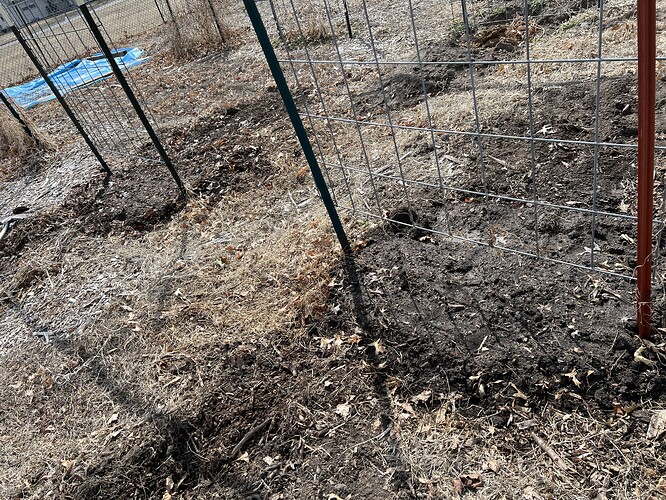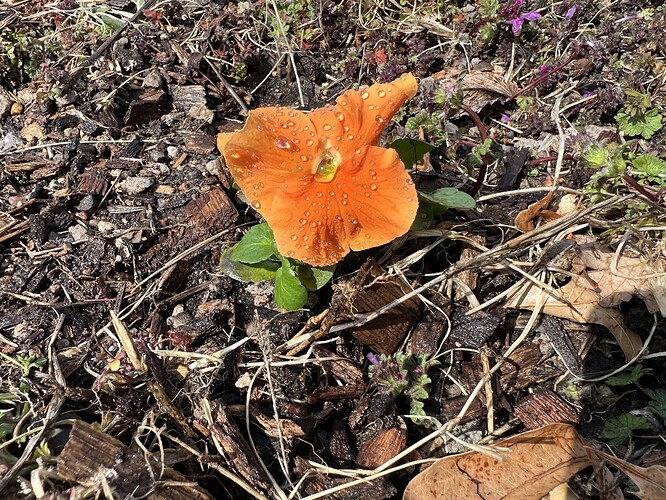 I planted lettuce under the cold frame Sunday.
Today I watered onions, bok choy, chard, small radish rows and pea seeds and lettuce seeds. Also watered all plants in boiler room except potted-up tomatoes. I want those to dry out before watering.
The chard and onions are sunburnt. My fault for not hardening them off properly. I think they will recover.
This bag has fresh seeds Extension brought us. There are bell pepper seeds in the bag, as well as radish and peas and more warm season vegetables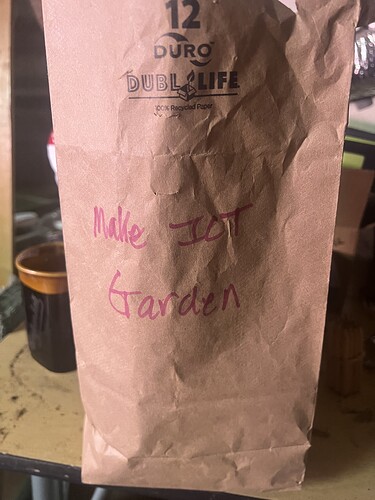 I watered all the daikon yesterday. Also, I checked the "greenhouse" this morning at 11, outdoor temp was 54 and it was 97 degrees inside!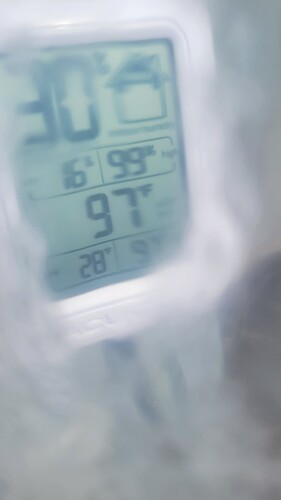 Nice! Sorry I had to jet yesterday–had to run home unexpectedly and give the car back to my wife. This is awesome!
I watered almost everything outside this afternoon except the daikon
Thanks, Sherry. I dropped the ball on seedlings, didnt water yesterday. I might have killed a few tomatoes and eggplant. Sorry. Repotting some stuff now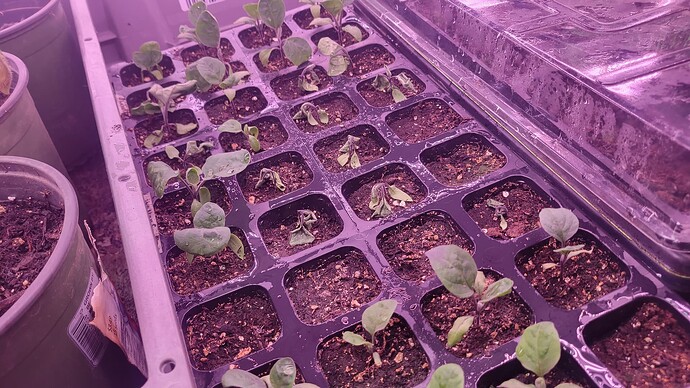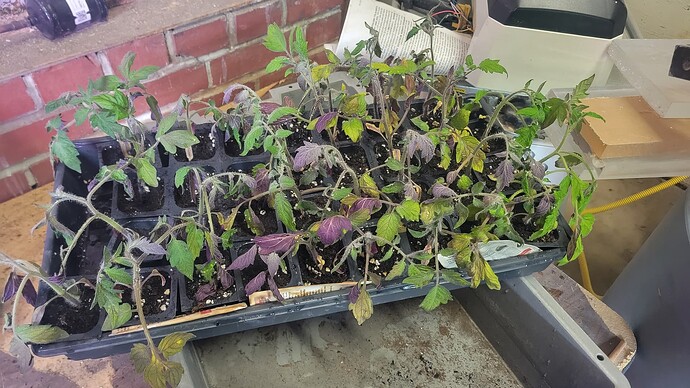 Last night I potted up the Amelia tomatoes and a few Juliet. Pots are marked. Also watered inside greenhouse, potatoes, lettuce bed and bok choy.
This morning potted up 5 Florida 91. Also sprinkled 1 cup blood meal in lettuce bed to deter rabbits and fertilize.
I think we should put some tomatoes in greenhouse and open one end ASAP. I can do it tonight. It makes more sense than potting up imo–go straight into the dirt. Not sure how we want to space the plants?
Amelias and Florida 91 are determinate, Juliet indeterminate. I gave each of my indeterminate 4 square feet each last year and it wasn't enough for the ones who did well (I lost 3/8 to disease so there was room for them to spread). I would not give them less than that each, even the determinates.
We should work some fertilizer in before you actually place them in the raised bed. The soil tests we've had done don't apply to the raised beds because the beds weren't filled with native soil. What time will you be there tonight? This is the only Thursday night I don't have dog practice for the next six months so I could be there about 7. I have some leftover tomato fertilizer and could pick up more. If you have to be there earlier then maybe you could open it up and I can work the soil and plant them.
I think it would be safest to roll up the bottom on all sides so they don't fry in the sun, though Saturday night it would be wise to close them - they won't like the chill even if it doesn't freeze. I can close them Saturday night and then we can open it Sunday morning.
I have never seen evidence of rabbits at the space. I would be more concerned with raccoons moving in so I'm a little leery of blood meal on the soil surface attracting them, fwiw.
I can be there at 7 and we can figure it out!
Jesse, @jameslancaster and I rolled up the hoop house plastic far enough to get some airflow through it. We then worked in some fertilizer, planted 4 Juliet tomatoes and 4 Florida 91s and set more tomatoes out to start hardening them off since tonight will be so warm. They'll get moved back inside and the plastic closed up tomorrow night.
The new tools from the Extension sale today are in the watering shed and the boiler room.
A lot was accomplished today! @Jesse and @Robert broke up a large area of weeds with the broadfork - Rob especially hit the bindweed and Bermuda grass in the garden hard and Jesse helped me dig up a spot for cannas to hide the big electrical box from the street. I planted the cannas, Jesse watered the greens, and @Bee dug out the far south raised bed where the extra herbs will go very deeply to get as many long bindweed roots out as possible. We pulled more than two very full wheelbarrows full of weeds out. Jesse and Rob also placed some blue plastic under the vining tunnel to block more bindweed growth. Jesse tilled an area south of the fence so we can plant flowers for visual appeal.
The tomatoes will be out until Tuesday night, and we will cover the in ground ones Tuesday and Wednesday night, maybe Thursday depending upon the forecast.
Also a reminder to start wearing sunscreen outdoors if you aren't already. I forgot today and my cheeks are sunburned!
Thanks everyone for your hard work!!!
So the blue pool cover plastic does not stop the bindweed in this weather fyi. Maybe when it gets to be >90°. This is the area that's been covered since the middle of last summef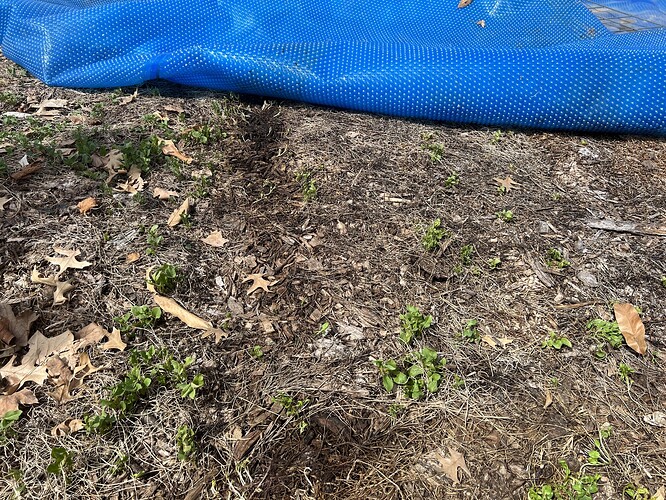 Bindweed is very hard to get rid of. I once dug down a foot deep taking out the root and it still came back. One method I have heard about although I haven't tried is to use the roundup concentrate and dip a leaf from each vine into it. A friend said that was how he was eliminating bindweed.
Were the working space requirements around the box taken into consideration? I walked by there last night and the dug up spot appeared to be less than 10 feet from the front.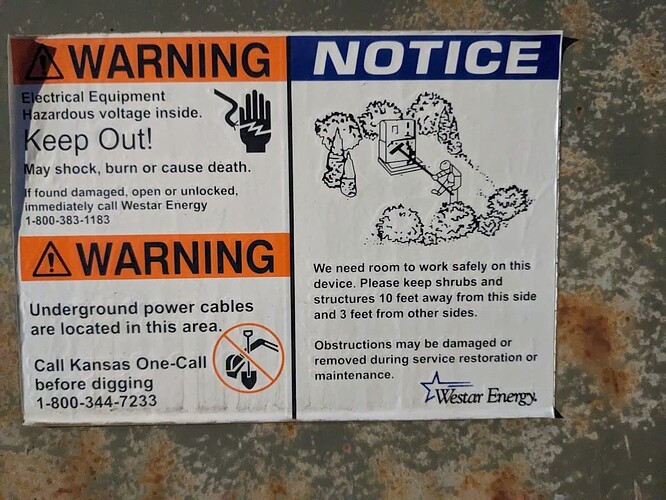 Cannas are neither a shrub nor a structure. During the season they are pretty tough flowers as their energy is stored in the rhizome underground, and they either die in winter or the rhizomes must be dug out at the end of each season, so I'm happy to take my chances where they are at present.
I moved all the plants inside tonight and covered outside tomatoes
Bee and I moved the tomatoes and at least some of the celery outside today. They should be fine to stay out now. I also watered the tomatoes in the bed.
Bee also transplanted some herbs into the south herb bed today.
Are people planning on being there today? Just wondering considering Easter.