So one of the things that I've got is an SDR and a weather station (Acurite 5 in 1), which I use to read it, and I realized just how odd a situation it is.
Even though that sounds pretty complicated it's really not, I had some annoyance at how to plot things. (Also because I deliberately left silly steps in, all but filtering the log/plotting/posting are done automatically.)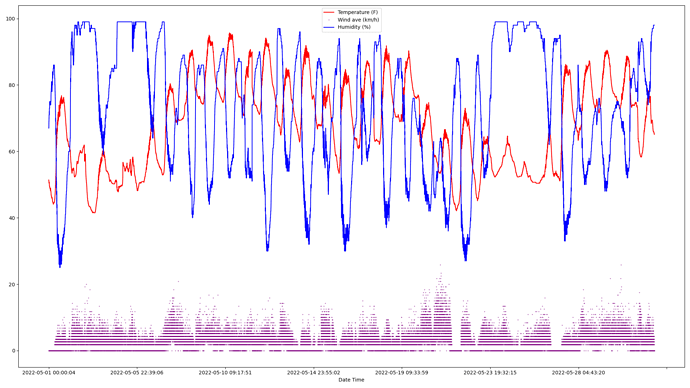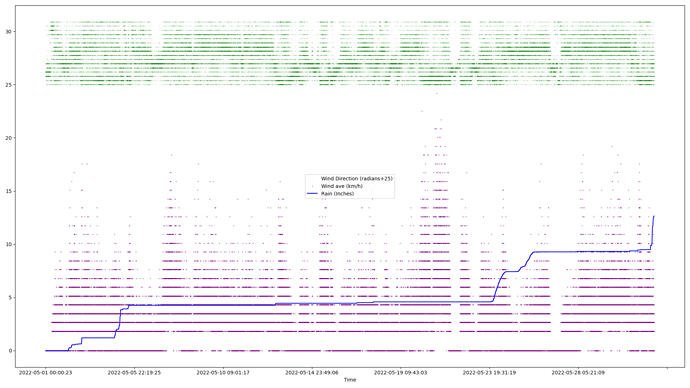 From: NWS summary: Text Products for CLI Issued by ICT
Screenshot as the above links to the current and it cycles at ~5pm and 1 am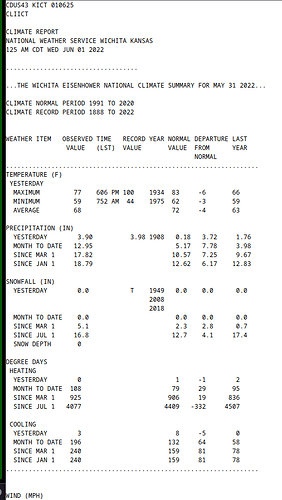 It was REALLY rainy this month, more than double the amount of rain (I got 12.64 inches) as normal.
Some notes on this: The wind sensors are discrete direction is 22.5 degrees, the speed sensor is in full rotations per time period (about 40 seconds) and neither is terribly consistent (Partially because it's a bit close to a building.) That's why the scatter plots. especially the wind which starts from degrees/radians clockwise from north, so bottom of the green goes: N, NE, E, SE, S, SW, W, NW and back to the bottom/North.)
Take the wind with a grain of salt too, I have another wind sensor which is in an even worse place, and they don't line up very well at all in terms of direction/speed. Also it had an inaccurate reading somewhere in that process in 166.5 (max)/155.0(ave) m/s… I say inaccurate because I haven't had a <30 second F-6 tornado hit my house. (I say F-6, because the old Fujita scale specified values up to F5 at 318 miles/hour (which are high based on subsequent research), and it's even above them at 372 miles/hour. The new Enhanced Fujita scale only goes 200+ miles/hour is EF-5, and well F-6 sounds more impressive.) Also the readings before and after were 0 & 0.5 m/s windspeed. )
The oddest thing about this… there was actually a period of calm winds for a while, TWICE in Wichita in a month!