Family unit exposed to covid just want everyone to be safe. Will refund or reschedule. Thanks for understanding.
Hello, I've been looking for a ceramics class to take as part of becoming a member of MakeICT. I didn't see anything for ceramics listed for December and haven't been on the page again till now. I guess I missed when this class was added, but it sounds really fun! I would love to join. Will it be rescheduled? How can I be notified if it's added to the calender again? Thank you.
Your best bet would be to subscribe to the News / Events Notification category here on the forum that way you get an email when new classes are added. When new classes are scheduled they are automatically posted there as well as out on our Facebook page.
Slight correction: events are not posted to Facebook automatically. That is a manual process and does not always get done. Especially when Facebook decides to throw errors anytime I try to post an event.
I found the best way for me to find a class has been to subscribe to the MakeICT Google Calendar and use search.
Thanks for including the link! I don't know if I would have figured it out, or I would have been nervous about it importing all of that into my calendar. So, I got it in and figured out how to change the color (it defaulted to the color of all my main tasks that I input into my calendar which would get really confusing).
But now I'm wondering how do I get notifications when new this are added? Or can I? I saw that I can set notifications to notify me am hour or whatever custom thing I set for before the event takes place… but I'm thinking that's not exactly what I'm looking for.
Thanks again for the tip! And I will subscribe to the news/events category. But I still don't seem to get any sort of notifications from this forum unless I sign in and look. I think I'd been assuming when I made a post in here I'd get an email or something when someone replied, but I didn't.
That depends on what calendar software You're using. For example, Google calendar on Android allows you to go to settings, choose the calendar you want notifications for, and add default notifications.
That being said, I don't know that I would want my male client alerting me for every single class or schedule item that's created under the calendar. What I've been doing is looking ahead a week seeing if there's anything that interests me and duplicating that particular item to my personal calendar.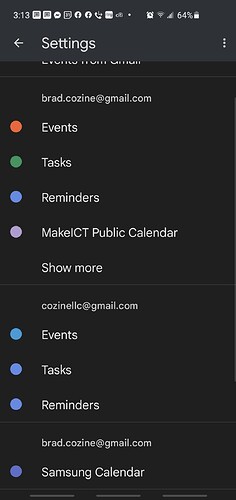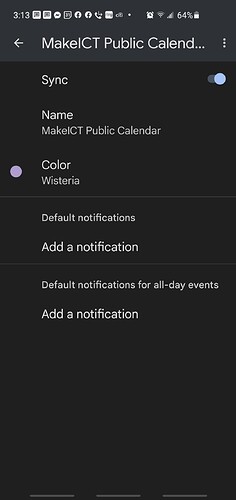 Thanks! I use google calendar, but on iOS. I think I should be able to do that. And I did get an email notification this time you replied. I don't know what changed, but that was more what I was expecting.
I have a bunch of occurrences for various ceramics classes on the calendar for January.
Look forward to seeing you in one!
DWH
Thanks you! I noticed them last night. I'm signed up for the both plaster class/slip mold making. I'm forward to it!
Saw you on the plaster safety at the end of the month didn't see the other signup but I may have missed it. Cheers!