The small bandsaw blade is broken and we are out of spares at the moment.
Do you make your own bandsaw blades or use prewelded bulk .
We've been buying blades but would like to weld bulk maybe metalshop would too. Right now we have maybe 4 blades in woodshop that just need re-welded.
New member so just question, do you have the bandsaw blade welding tool , which usually works easily, or have improvised a different method of welding them?
No, if we had the blade welder I would be using it. A blade welder is on my wishlist. Im gonna check ebay right now lol
back in the day we would silver solder the blades. Had a simple jig to position and hold the blade correctly.
Here is a link showing a tool and process similar to what I used to use. The clamp tool shown here is actually more complex than what I used. We just used vise grips to clamp the blades down rather than have integrated screw clamps. Key is getting the ends aligned properly and having approximately a 10 deg matching scarf on the ends. I always eyeballed sanding in the scarf but you can also make a pretty simple tool to put the blade at the correct angle and sand it on a disc sander. This will allow buying blade material in bulk and getting more life out of those when they break.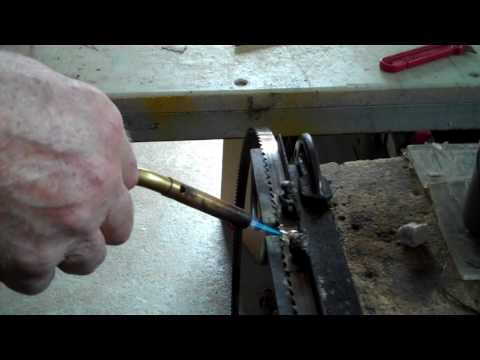 Thanks Jerry, very helpful. I will watch this