This is not an impressive thing to post, it's not meant to be, but this classroom was mostly painted except for this pain in the butt closet that has a bunch of shelves to paint around. Now even that wall has a fresh coat of paint: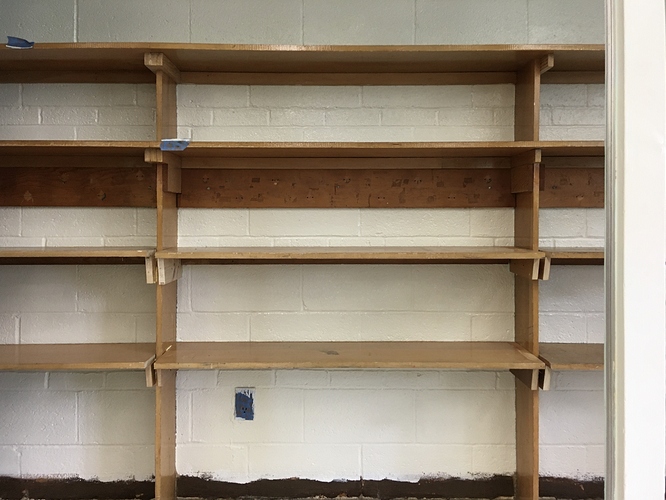 The REASON I'm posting this is because we all have a million questions about the new building, and I know members are leaving because we are sometimes not great at telling the story and laying out the future. We hoped to open in a couple weeks but have some major HVAC/electrical requirements ahead of us. Since I am not a licensed electrician I've been staying out of the picture, but today I got a text from Paula that the boiler room needed cleaned out so I took my mask, left my house, and went to 5920 E Mt Vernon.
I ended up not needing my mask because we emptied the boiler room really quickly, then Cathy asked me to finish some painting in classroom 3, so I did that. I just put on music on my phone and was all by myself. It's a huge building with lots of separate tasks to do. I've been trying to be as socially distant as I can lately, and today I felt just as quarantined.
If you're a member of MakeICT and you haven't seen the building in months, you need to see it. People are working out there every single day. They will help you get involved. I can't tell you exactly what will happen every day, you know that MakeICT has never been laid out like IKEA instructions when it comes to getting involved. Mark it on your calendar, touch base with somebody here if you want to make sure it's the right day - but honestly you can probably just drop in almost any day between 9am and 9pm.
We've always had this struggle where the people doing the work don't have time to ask for help or talk a lot about the work they're doing, so people on the outside don't see it. Or maybe we feel pressured to tell big remarkable stories. if you just paint a wall, who's going to be impressed? But I didn't paint this wall because it was important, I did it because it was relaxing for me, and got me back in touch with our cause, and it was an excuse to see the building and everything going on. It really is incredible and I am so impressed with the people who've been out there every day.
And while you're out there, post about what you see so other members believe that we are making progress and this is worth dedicating more time and money for? I think members are losing a sense of how alive we are, and we can't convey it in emails and wiki pages and newsletters and forum posts. I don't know what to do about that.