Trying to access the calendar and get a database error.
Is the calendar down for anyone else?
On my PC using chrome, I was getting the header/footer but no calendar. I noticed in my browser bar an eye with a line through it.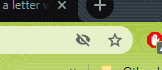 This means 3rd party cookies are blocked. I had to enable them to get the calendar to show up.
Yeah, looks like there are some issues with the embedded calendar if you have certain privacy/tracking options configured. I added a link to the calendar on that page, but maybe someone who knows more about web development can shed some light on how to fix it properly.
I don't think it's privacy/tracking. Or at least it's doing it in multiple browsers (firefox/chrome/chromium & derivatives) with default profiles.
As far as I can tell, Something seems to be going on with the way google embeds things, and the problem may well not be on our end.
For now I've switched it to an older version of the embedding, which seems* to work at least at the moment. Let me know if it's not working. Do expect it to be a bit uglier than it has been in the past, but hey I think it'll show. https://makeict.org/calendar
(*That didn't seem to be working earlier, in fact I have a tab up where it's not, so I'll see about revisiting this soon.)