How do we buy one of the flag boxes that are shown on the face book page?
What flag box is that? Do you have a link?
If we have any left they should be on display in the welcome center. Fill out a donation envelope and place the money in the drop box. If we don't have any left I should remove that listing.
I'll check in the morning.
I didn't see any of the boxes.
Sorry we are out of stock. Though I am still curious what are we talking about? Is there a link? Is it something that a former member made or what? Would it make a good class for Woodshop?
I believe @kim made them on the Laser cutter then painted them.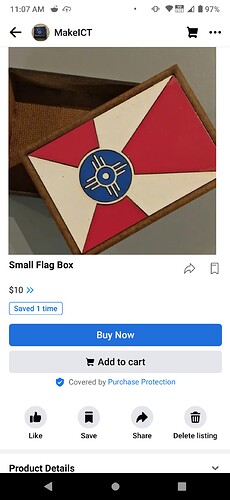 We might have one in the box of stuff we display…
Before we get rid of that box, if there is one, can I see the paint job one more time? As I recall it has almost a thick enamel finish to it… I'd like to look at it so I can set bar high for my paint jobs on similar projects.
I can dig it out when I'm there Friday afternoon
Hey just saw this, sorry I'm late to the thread!
But to answer questions… it is laser cut MDF and spray paint. I made them to house gift cards. They didn't sell well

but I could dig around my design files, I'd be happy to share them.
Hey @kim! Hope you're doing awesome! The paint job looked excellent. So smooth and enamel-like and the edges are so crisp! I'm assuming it required some creative masking? Sooo curious about the order of painting, engraving and remasking you used!
Nope, not masking… I cut out each flag part, spray painted them separately, then put it together like a puzzle glued to a solid MDF back. Make extra dots for the center because those tiny buggers can get dropped and bounce to another dimension!
Then a year later you come across one cleaning and are like…where tf did this come from and what does it go to?
The truth straight talk?
Fey. Lil buggars are everywhere.
Is anyone thinking about making any more?